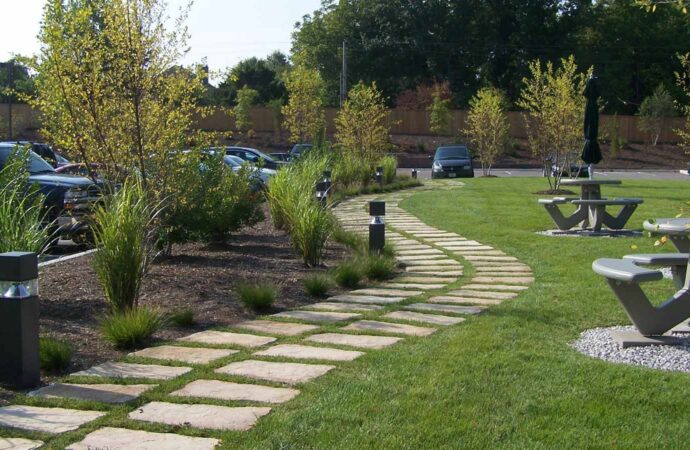 Do you own any commercial property?
---
If so, then this is the perfect article for you! Read on, to find out why.
We are a landscaping company. Have you heard of us? The "League City Landscape Designs & Outdoor Living Areas". No? Better late than never! Curious as to why we referred to this as the perfect article for you? Well, we would like to extend our services to you. Would you be interested in the commercial landscape? If you think the commercial landscape is merely planting trees, mowing grass, or perhaps trimming shrubs. Then, you are both right and wrong. Yes, that is a subset of what we do. However, that is not all. Interested to know more about what we can offer you? Here is a complete list of the services we have available to offer you. These services include the following: Landscape Design & Installation, Outdoor Patios, Outdoor Pergolas, Stonescapes, Residential Landscaping, Commercial Landscaping, Irrigation Installation & Repairs, Drainage Systems, Landscape Lighting, Outdoor Living Spaces, Tree Services, and Lawn Services.
Do any of the above interests you in some way? Reach out to us and let us know which services you are most interested in!
By the way, did you know that investing in your surrounding's appearance is not only an incurring expense? In one way or another, it can also be perceived to be a profitable choice. Why? Think in the long run, who would want to work in an area that is not well-maintained? Our surroundings also affect our productivity. Okay, let's not talk about work.
What if you own a recreational center or even a private zoo, perhaps? Investment in maintaining the surroundings will result in your favor. Visitors are likely to keep pouring in if the environment or surrounding is good. Imagine stepping into a compound that is not maintained, if you ask me, I would hurriedly leave the premise and if possible, never return unless I absolutely must.
Congratulations, you have reached the end of this article! What are your thoughts? Are you convinced to go for commercial landscaping, or perhaps any of our other services? Take a chance on us and we guarantee you the best landscaping services you could ever find. What do you say?
When it comes to outdoor living areas, League City landscape designs & outdoor living areas are the best. We are very reliable, and we have proven through our perfect work that we are the best and very dependable.
Here is a list of our services you can get at League City TX Landscape Designs & Outdoor Living Areas:
We service all of Texas. Below is a list of cities most of our services are at on a daily basis: